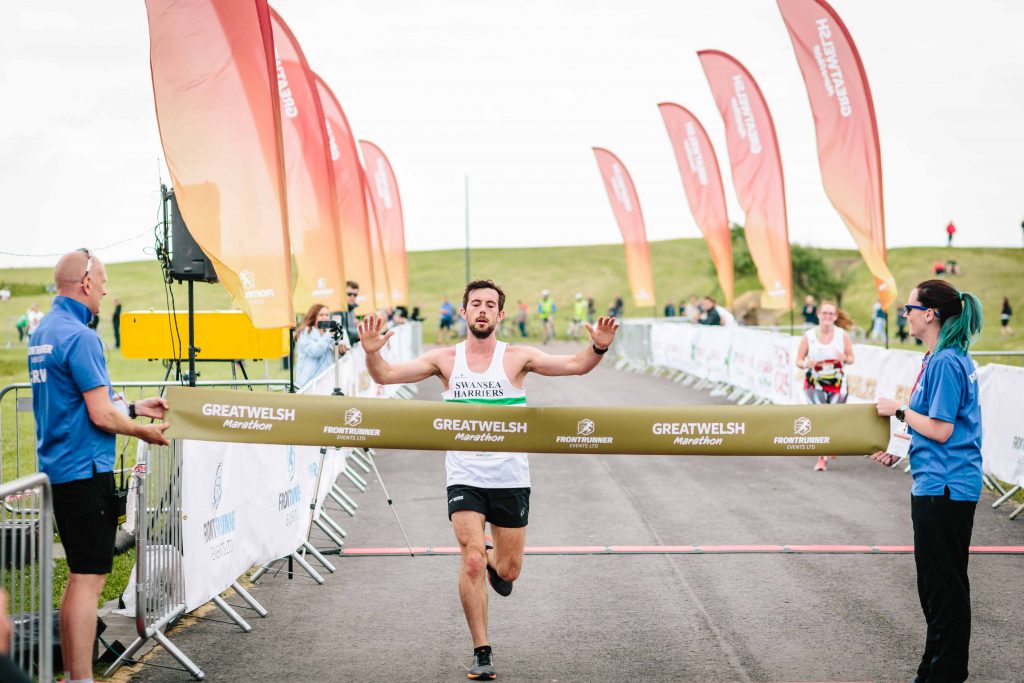 Matt Rees, the London Marathon hero that won the hearts of the nation when he helped fellow runner David Wyeth cross the finish line at this years London Marathon came first yesterday (Sunday, 7th May) at South Wales' only marathon.  The Great Welsh Marathon took place in Llanelli, starting at Festival Fields, taking runners along the magnificent Millennium Coastal Path, all the way to Burry Port and back.
The event was a complete success with hundreds of P.B.'s achieved and new records set.  Matt Rees, who took 1st place in the marathon in a time of 02:50:02 said:
"The Great Welsh Marathon Champion – I can't quite believe it. I have been having calf issues but after some rest I was so tempted to do this local race. I decided to enjoy the experience and race the marathon rather than run it…I only decided to do the race last minute, so I was worried that a lack of carb loading and preparation would start to hinder but apart from a pit stop I felt good. I really cherished the support from both spectators and other runners. It was probably the friendliest race I've run. With many out and backs we encouraged each other as we passed. Cheering on passing runners helped pass the miles and it made the whole experience one to remember for another reason. Every marathon has a story. That's why I keep coming back." 
 "No more marathons for a while now. Time to get some decent training done. But I'm ecstatic that I can now say I have won a marathon. I always say you remember your marathons and this one is no different. What a great day."
 As well as the great success of Matt, the winner of the half marathon race that took place at the event was also won by Swansea Harrier; Ian Harris, in a time of 01:11:45.  The top three results of both races are as follows: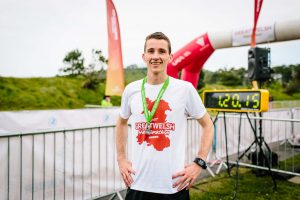 Top 3 Winners At The Great Welsh Marathon
Male
Matt Rees (02:50:02)
David Hazell (02:54:34)
Neil Jones (03:01:42)
Female
Katie Warren (03:26:49)
Michelle Lennaghan (03:44:01)
Melissa Myles (03:46:55)
Top 3 Winners At The Great Welsh Half Marathon
Male 
Ian Harris (01:11:45)
Ross Simpson (01:18:19)
Nathan Flear (0 1:18:22)
Female
Celia Boothman (01:28:49)
Emma Baxter (01:28:56)
Caroline Hudson (01:40:56)
David Martin-Jewell, managing director of Front Runner Events Ltd said:
"We are overwhelmed by the fantastic feedback we have received about our event so far.  Although we had a small field of runners at the Great Welsh I would consider this race probably the most successful inaugural event we have organised to date.  We really have a fantastic team of volunteers and sector heads who do an incredible job to make our events a great success.  I am extremely proud to be a part of the Front Runner team and very excited for our next big race; the JCP Swansea Half Marathon next month." 
Entries for the Great Welsh Marathon and Half Marathon will open on Friday 12th May, anyone wishing to sign up can register here: www.greatwelshmarathon.co.uk   The team behind the race are making big plans for 2018 and intend to make great improvements to the event and route.
David added:
"2018 will be a big year for us, with Llanelli Half, the Great Welsh and the JCP Swansea Half Marathon under our belts, we will be focusing on delivering the best races in South Wales.  Having a series of events throughout the year will mean that our runners will benefit even more from taking part in all 3 events.  We intend to continue delivering first class events but will reward our loyal runners with discounted entry for participating in all 3 races, and a limited edition medal for the Front Runner series."      
Go to www.greatwelshmarathon.co.uk for further details and full race results.  You can also keep up to date with news and see the latest photos by liking the Facebook page www.facebook.com/GreatWelshMarathon/ and following @WelshMarathon #RunCymru on Twitter.